Lenox Lewis Signed Davidoff Winston Churchill Humidor
Charity Auction Lot with all proceeds going to the Lennox Lewis Boxing Academy Foundation.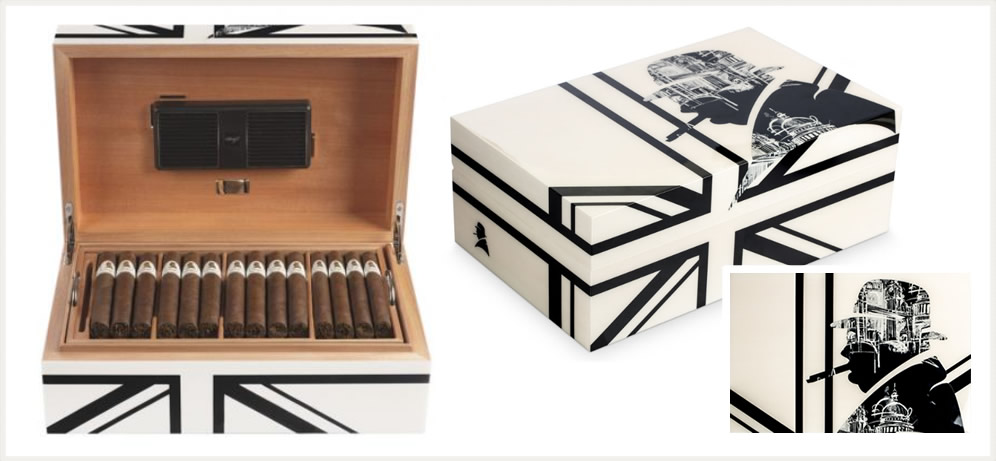 Bid on an extremely special piece in the December 2nd Online Aged, Rare & Vintage Cigar Auction.
Davidoff Winston Churchill Humidor - 48 Churchill Sized Cigars
Click here to bid on the charity lot
Humidor signed by Lennox Lewis and Randolph Churchill (Winston's great grandson and head of the family).
24 x Davidoff Winston Churchill Aristocrat
24 x Davidoff Winston Churchill Late Hour Churchill
The humidor features a strong design statements inspired by Sir Winston Churchill's many facets.
The Winston Churchill icon is treated in a modern and audacious design with a line that reflects his unique wit and daring spirit: bright colours, attractive and full of character.
"LONDON" is inspired by Winston Churchill's life, and his dramatic impact on London that is evident by the mark that is left today from official statues, to street art of this icon. The Winston Churchill icon is displayed loudly on a beautiful beige wood humidor.
With a storage capacity of 70 to 90 cigars, the Ambassador comes with a removable basket to adapt to every aficionado's needs. Meant for those with a larger assortment of cigars, this humidor has a tray and dividers for the ideal format for sorting and arranging a true collection. Equipped with one Davidoff Slim self-regulating humidifier, guaranteeing stable humidification between 70-72%.
Humidor Specifications:
Material:
Interior - Gabon / Okoume Wood
Colour:
Beige and Black
Finish:
Polished Lacquer
Capacity:
90
Product Height:
[in] 5 1/2
Product Length:
[in] 15 1/12
Product Width:
[in] 9 5/12
Note:
This Lot will not be subject to any buyer's premium.
The winning bid will become the starting bid at this year's Vina Carmen Cigar Smoker of the Year Dinner on the 3rd of December at Boisdale Canary Wharf in London. If there are no higher bids at this auction, the online bidder will win the lot. The winning bidder will receive a ticket to the Cigar Smoker of the Year Dinner (Usually price £175).
More information on the event can be found here.